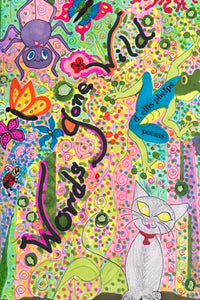 D. Ellis Phelps' poems, essays, and visual art have appeared widely online and in print. As an educator, she has taught fine arts in various venues with students of all ages for decades, and she currently facilitates The Art of Writing Workshop Series for the Patrick Heath Public Library in Boerne, Texas, among other venues.
In addition to having edited more than a dozen anthologies, she is the author of two books of poetry: what she holds (Moon Shadow Sanctuary Press, 2020) and what holds her (Main Street Rag, 2019); and of the novel, Making Room for George (MSSP, 2016). On her blog, Formidable Woman Sanctuary, she writes about spiritual and emotional healing and the writing life, among other topics, while also publishing the work of other writers and artists.
She is the founding and managing editor of Moon Shadow Sanctuary Press and of fws: international journal of literature & art.
Paperback: 66 pages
Publisher: Kelsay Books (July 15, 2021)