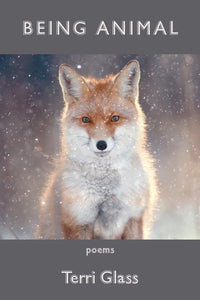 Terri Glass lives among redwood, elk, and black bear near the Smith River in northern California. She is a writer of poetry, essays, and haiku, and she holds a BA in Biology from Western Washington University and an MFA in Creative Writing from University of Southern Maine.
She is the author of a book of nature poetry, The Song of Yes; a chapbook of haiku, Birds, Bees, Trees, Love, Hee Hee, from Finishing Line Press; and an e-book, The Wild Horse of Haiku: Beauty in a Changing Form, available on Amazon. Terri also produced an award-winning poetry & music CD, The Body of the Living Future, and a lesson plan book for educators, Language of the Awakened Heart. Her work has appeared in many journals and anthologies, including Fire and Rain: Ecopoetry of California and Earth Blessings.
Terri teaches with the California Poets in the Schools program and served as their statewide director from 2008–2011. She also offers creative writing workshops for adults through bookstores, community colleges, libraries, and other venues.

Paperback: 88 pages
Publisher: Kelsay Books (June 26, 2020)