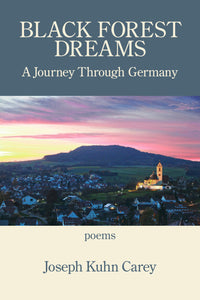 Joseph Kuhn Carey's poetry book, Postcards from Poland, was selected as the third Journal of Modern Poetry Book Award winner in 2013 and published by Chicago Poetry Press (as part of the award) in February 2014. (Postcards From Poland is currently available at PostcardsfromPoland.com and www.Amazon.com). Postcards from Poland was also selected in May 2016 as the 1st Place Poetry Category winner in the Pacific Book Awards, as well as the 1st Place "Medalist" winner in the Travel Category for the 2015 New Apple Book Awards For Excellence in Independent Publishing in February 2016. In addition, Postcards received a Florida Writers Association Royal Palm Literary Award in November 2015 (as the 1st Place winner in the "Travel Category"), and awards from the 2016 Beverly Hills Book Awards, 2015 Midwest Book Awards, and 2015 Royal Dragonfly Book Awards, in addition to awards from the London, Paris, Amsterdam, San Francisco, Southern California, and Great Midwest Book Festivals in 2014, 2015 and 2016.
Mr. Carey's most recent collection of travel poems entitled, Black Forest Dreams, A Journey Through Germany, was also selected as the 1st Place winner in the Travel category for the 2017 Paris Book Festival, the 2016 Amsterdam Book Festival, and the 2016 Northern California Book Festival.  Joseph Kuhn Carey is also the recipient of an American Society of Composers, Authors and Publishers (ASCAP)/Deems Taylor award for music-related writing (for articles written about jazz artist/composers Carla Bley, Charlie Haden, and Anthony Braxton) and a Grammy-voting member of The Recording Academy. He's published a chapbook of poetry (Bulk-Rate) and a book on jazz (Big Noise From Notre Dame: A History of The Collegiate Jazz Festival, University of Notre Dame Press) and has released two "Loose Caboose Band" CDs of original children's songs with his brother, Bill (The Caboose is Loose and Mighty Big Broom, the latter of which garnered two first-voting-round Grammy nominations), both of which are available on iTunes and Amazon.com.
He received a Bachelor of Arts degree in English from the University of Notre Dame, a Master of Fine Arts (in Creative Writing) degree from the University of Iowa Writers' Workshop, and a Master of Science in Mass Communication degree from Boston University. He's traveled the country interviewing bakers for Bakery Magazine and written about jazz & blues artists for Downbeat, JazzTimes, and The Boston Globe. Mr. Carey's poems have been selected in the 2013, 2014, 2016, 2018, 2019, and 2020 Highland Park Poetry "Poetry Challenge" contests, 2015 and 2016 Poets & Patrons Chicagoland Poetry contests, 2014/2015 & 2018/2019 Illinois State Poetry Society Annual Poetry contests, the Journal of Modern Poetry JOMP 15, JOMP 16, JOMP 17 and JOMP 18 Poetry contests, the Writer's Digest 7th Annual Poetry Awards Contest & 80th Annual Writing Competition, Highland Park Poetry's 2013 and 2015 "Poetry That Moves" contests and the Evanston Public Library's 2013 35th Annual Jo-Anne Hirshfield Memorial Poetry Awards. Also, his poems have appeared in the Illinois State Poetry Society's Distilled Lives poetry collections (Volumes 3, 4 and 5), the 2014/2015 & 2015/2016 editions of the East on Central Journal of Arts & Letters, and many poetry collections published by Highland Park Poetry. One of Mr. Carey's poems was also nominated by Highland Park Poetry for a Pushcart Prize in 2019. When not scribbling entertaining poems, stories, and songs on all available scraps of paper to read to his wife and sons over dinner, he runs a successful multi-state property management business.
Paperback: 86 pages
Publisher: Kelsay Books (February 16, 2021)
See the poetry reading here.
Reviews:
Highland Park Poetry  
Readers' Favourite 
Press Reader 
Mitteilungsblatt 
Reader Views

Awards: 

Colorado Independant Publishers Association EVVY Awards 2021: 3rd place in the Poetry Category 
2021 Florida Writers Association Royal Palm Literary Awards: Finalist