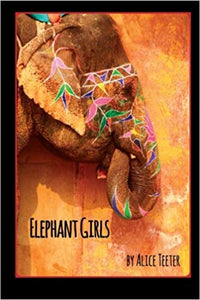 Still Available on Amazon
Alice Teeter's collection of poems entitled String Theory won the Georgia Poetry Society's 2008 Charles B. Dickson Chapbook Contest, judged by poet Lewis Turco, and her book When It Happens To You . . . was published in 2009 by Star Cloud Press. She studied poetry at Eckerd College with poet Peter Meinke. Her chapbook entitled 20 CLASS A was published in 1975 by Morningstar Media, Tallahassee, Florida. Teeter served as an Adjunct Professor, Lecturer in Poetry, at Emory University in Atlanta, Georgia, from 2011 through 2013.
Teeter co-leads 'Improvoetry' workshops with actor / director / creative coach Lesly Fredman, using improvisation techniques as poetic inspiration and poetry as a springboard for further improvisation. She is a member of Alternate ROOTS, a service organization for artists doing community-based work in the Southeast and is also a member of the Artist Conference Network, a national coaching community for people doing creative work. With Kathie deNobriga, she hosts a monthly Art Salon where artists of all kinds present finished work or work in progress to small, but appreciative audiences.
Paperback: 90 pages
Publisher: Kelsay Books/Aldrich Press (July 16, 2015)