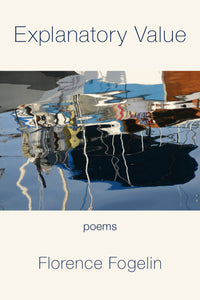 Florence Fogelin's book, Once It Stops (Deerbrook Editions, 2015), was a finalist in Foreword Press's IndieFab Poetry Book of the Year 2016 competition. A chapbook, Facing the Light, was published in 2001.
Her poems have appeared in journals including Prairie Schooner, Florida Review, Cumberland Poetry Review, and Poet Lore and have been featured on websites by Poetry Daily and Women's Voices for Change. She has been a finalist for the Gell Prize by Writers & Books and semi-finalist for Word Work's Washington Prize.
Fogelin's poetry has appeared in anthologies including 53 Press Anthology 2013; Birchsong: Poetry Centered in Vermont; Roads Taken: Contemporary Vermont Poetry. Fogelin was married to a professor of philosophy, Robert Fogelin (deceased), and has three adult sons. She currently lives in Hanover, NH, and has a website, florencefogelin.com.
Paperback: 78 pages
Publisher: Kelsay Books (April 15, 2021)