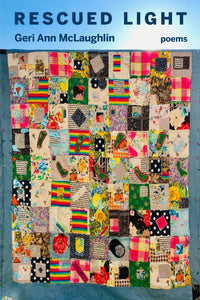 Geri Ann McLaughlin studied poetry and creative writing while earning her degree. This included classes at Duquesne University, University of Pittsburgh, and a 5-credit graduate class in Dublin, Ireland, at the Parnell Writing Center in the summer of 1995.
After graduating from the University of Pittsburgh with a BS in Elementary Education in 1989, she moved to Delaware to begin her teaching career. There, she taught 4th grade for five years. Then, after getting married, she moved to Bucks County, PA where she currently teaches. Recently, she also earned a Master's in Early Childhood Literacy from Wilkes University and a Master's Teaching Certificate in Gifted and Talented Education from Millersville University. All of which inform her poetry.
She and her husband, John, raised their daughters, Laurel Ann and Helen, as they managed and resided in the Weisel Hostel in Lake Nockamixon State Park. Now, their daughters are young adults. John and Geri Ann live in Lansdale, PA, with their dog, Flynn.
Paperback: 114 pages
Publisher: Kelsay Books (June 5, 2021)