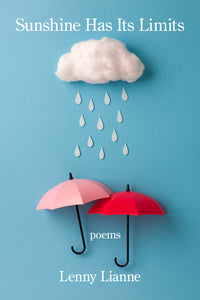 Lenny Lianne was born in Washington, DC and spent over forty years in the "A" suburbs of Northern Virginia: Arlington, Annandale, and Alexandria, and has visited all seven continents. She is the author of four previous books of poetry and holds an MFA in Creative Writing (Poetry) from George Mason University. Her poems have appeared in regional, national, and international journals and anthologies. She's taught the writing of persona, fairy tale, and ekphrastic poems as well as the ode in workshops on both coasts. Lenny Lianne lives in Arizona with her husband and their dog.
To read the twice-monthly posts on her blog, Spotlight on Poetry, go to spotlightonpoetry.blogspot.com.
"Blue Willow" garnered a 2022 Pushcart Prize nomination.
Paperback: 128 pages
Publisher: Kelsay Books (April 4, 2023)
Awards:
Poetry Society of Virginia 1st Place in the 2007 Bess Gresham Memorial Contest