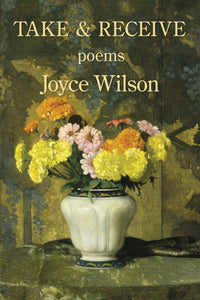 Joyce Wilson is editor of The Poetry Porch, a literary magazine on the Internet since 1997. Wilson's poems have appeared in many literary journals, among them American Arts Quarterly, Poetry Ireland, Ibbetson Street Magazine, and Alabama Literary Review. Her full-length poetry collection, The Etymology of Spruce, and a chapbook, The Springhouse, both appeared in 2010. Another chapbook, The Need for a Bridge, was published in March 2019. Her profiles of the poets Eavan Boland, Julia Budenz, Etel Adnan, and Diana Der Hovanessian (TBA) can be read on the Women Poets Timeline Project at Mezzo Cammin. She directs a poetry discussion group once a month at the Scituate Town Library.
Taking classes as a special student at Harvard University for nearly a decade in the 1980s, Wilson received a B.A. through Harvard Extension in 1984 and an M.Ed. from the Graduate School of Education in 1987. During that time, she studied writing poetry with Seamus Heaney, writing about poetry with Helen Vendler, in between seminars in English and American literature and education.  In 1989, Wilson traveled with her mother and daughter and fifty other Americans to Egypt over the Christmas holidays, a trip that continues to inspire her poems and prose. She worked at Harvard's Woodberry Poetry Room as Assistant to the Curator and Managing Editor of Harvard Review from 1992 to 1996 and taught English, at Boston University, and then Suffolk University, for almost two decades.
Wilson and her husband have lived in the same house in Scituate, Massachusetts, on the South Shore of Boston, since 1975. On their acre of land, they grow vegetables and flowers and raise flocks of chickens, who contribute their eggs and fertilizer to the ongoing process of growing things. They have traveled to Europe and the Middle East several times to catch up with their daughter, a journalist, now married with two daughters, who writes about the arts in Beirut, Lebanon, the locale of her great-grandparents.
Paperback: 102 pages
Publisher: Kelsay Books (May 9, 2019)