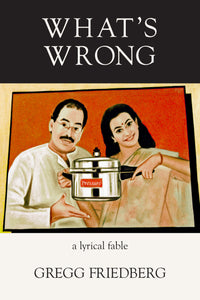 Gregg Friedberg grew up in Columbus, Ohio, but for many years has lived in Upper Sandusky, a rural county seat, and nowadays spends half of each year in Guanajuato, Mexico, where he participates in the bilingual arts-and-culture scene: gives regular readings and is coeditor of the bilingual literary journal La Presa published by Embajadoras Press.
Professionally he's been a partner in a computer software company, writing applications for Ohio county government, but has always written poetry, is happiest when writing sustained sequences like What's Wrong: loosely but not conventionally narrative, treating a matrix of themes from an evolving perspective.
The Best Seat Not in the House (Main Street Rag, 2010, Embajadoras Press 2017) examines the vexed relationship between Creator and creature, whether God and man or author and protagonist. Would You Be Made Whole?, a collection of unruly sonnets, was published in 2015 by Aldrich Press. A reprint of Would You Be Made Whole? was published in 2022 by Kelsay Books.
Friedberg is completing a collection of photographs with corresponding texts, The Artist's Reception, the result of the black-and-white figure photography project he's been working on for the past several years. The texts gradually reveal the history of the speaker and the 'figure' in the photos; some texts have as their point of departure witty comments posted in response to the photos by users of the art site deviantart.com. Excerpts from the work have appeared in the art magazines NyghtVision, Tagree, Noisy Rain, tMf, Vitruvian Lens, and Daydreaming.
For ten years Friedberg was a member of Frank Bidart's summer workshop at Skidmore College.
gefriedberg@gmail.com
Paperback: 153 pages
Publisher: Kelsay Books (October 3, 2022)