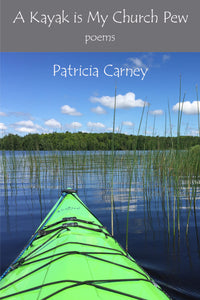 Patricia Carney lives in Cudahy, WI along the south shore of Lake Michigan, English Major at U. of Wisconsin—Milwaukee, and received a Juris Doctorate at Marquette University, member of the Wisconsin Fellowship of Poets and South Shore Poets, her poems have appeared widely throughout the mid-west region along with numerous anthologies including most recently in Bramble (Summer 2020), lit. magazine of WFOP, and first-place winner in juried ekphrastic poetry competition at Inspiration Studios, February 2020.; author of two chapbooks, BIRDBRAINS, 2016, in cooperation with member of the Audubon Society in celebration of birding and To the MUS(sic), 2018, and novel, COMMUNITY SERVICE ON PLANET WEIRDO, 2019;
Her love of kayaking brought her each July, along with her extended family, spending the premier month of summer, to the northern woods of Wisconsin to kayak and explore the Turtle-Flambeau Flowage. Each trip is a spiritual journey into a unique river ecosystem first depicted on a carved totem pole that sits along the shores of the flowage. Documenting trips on a spiral memo pad with iPhone pics, these adventures flowed into the poems of this collection.
Located in Iron County in Northern Wisconsin, the Turtle-Flambeau Flowage was created in 1926 by the construction of a dam to create a reservoir and harness the power from the confluence of two rivers, creating 114 miles of winding flowage shoreline amid 195 islands, totaling nearly 19,000 acres of sparkling waterway. While the dam was originally controversial, the Wisconsin Stewardship Program preserved nearly 95% of the shoreline, which is now protected within a State Conservancy.
WI DNR now calls the flowage the "crown jewel of the north." Kayakers often compare the Turtle-Flambeau to the Boundary Waters of Lake Superior in Minnesota because of its pristine wilderness. Carney has kayaked these waters for over 25 years.
Paperback: 46 pages
Publisher: Kelsay Books (January 6, 2021)