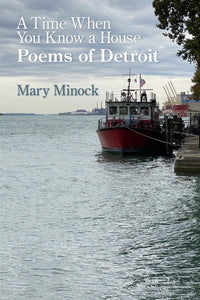 Mary Minock grew up in the 1950s and 1960s in the dense Southwest Detroit parish of Holy Redeemer during a time of remarkable changes. Eventually, she left Detroit and went on to live in a series of college towns and New York City. She moved back to Detroit in 1996, fixed up her childhood home, lived there for more than a decade, and then moved three blocks away to help restore another stately Detroit home where she resides today.
She is the author of The Way-Back Room: A Memoir of a Detroit Childhood (Bottom Dog Press, 2011) and the first book of poetry, Love in the Upstairs Flat (Mellen, 1995). She has won several awards for her poetry, including an Allen Ginsberg Poetry Award. She is a three-time winner of the Gwendolyn Brooks Award for Poetry from the Society for the Study of Midwestern Literature.
Mary has recently retired as professor emerita from Madonna University. Before that, she taught at Wayne State University, the New York Institute of Technology, and the University of Michigan.
Paperback: 139 pages
Publisher: Kelsay Books (November 2020)