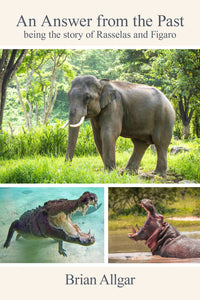 Brian Allgar was born in 1943, a mere 22 months before Hitler committed suicide, although no causal connection between the two events has ever been established.
Educated at Christ's Hospital, Horsham, and University College, Oxford, he joined the Civil Service where he vegetated for nine years. To the astonishment of his colleagues, he resigned in order to become a freelance computer software writer, a job that has taken him to France, Holland, Sweden, Italy, Hungary, and the United States.
Although immutably English, he has lived in Paris since 1982. He started entering humorous competitions in 1967, but took a 35-year break, finally re-emerging in 2011 as a kind of Rip Van Winkle of the literary competition world.
His work has appeared in The New Statesman, The Oldie, The Spectator, The Washington Post, Flash500, Light Poetry, Lighten Up Online, Snakeskin, The Quarterly Review, The Great American Wise Ass Anthology, Measure, The Penguin Book of Limericks, and possibly a few other places that he's forgotten. He also drinks malt whisky and writes music, which may explain his fondness for Mendelssohn's Scottish Symphony.
This is his second book, the first being The Ayterzedd: A Bestiary of (mostly) Alien Beings.
Paperback: 44 pages
Publisher: Kelsay Books (September 12, 2020)
Review:
Light Poetry