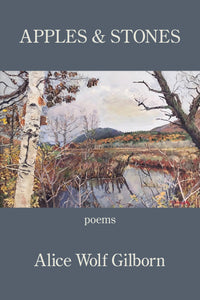 Alice Wolf Gilborn, a graduate of Wellesley College and the University of Delaware, is the founding editor of the Adirondack literary magazine Blueline, now published by the English Department, SUNY Potsdam. She is author of a chapbook, Taking Root (Finishing Line Press), as well as two books of nonfiction: What Do You Do With a Kinkajou? (Lippincott) and Out of the Blue (Potsdam College Press), a winner of the best book of nonfiction from the Adirondack Center for Writing. Her poems have appeared in numerous journals and anthologies, including The Writer, The Lyric, Blueline, A North Country Quartet, Healing the Divide and After Moby-Dick. In 2012 and 2018, she was lead editor and publisher of two volumes of poems by Vermont poets, Birchsong: Poetry Centered in Vermont. She is a member of the Authors Guild, the Poetry Society of Vermont, and is listed in the Poets & Writers Directory.
See her website at alicewolfgilborn.com for more information and samples of her work.
Artist Mary Schwartz, from East Dorset, Vermont, paints "nature captured through the lustrous medium of egg tempera….I paint landscapes of Vermont and Delaware, where the quality of light, colors, textures and contours are part of my everyday life….My paintings are meant to portray my life in nature, to evoke the deep feelings I have for its beauty." See www.mschwartzarts.com.
Paperback: 86 pages
Publisher: Kelsay Books (August 25, 2020)
Review:
Manchester Journal