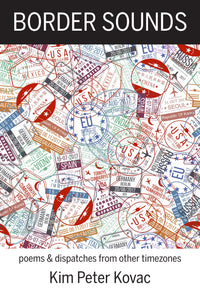 Travel, both personal and business, has inspired and influenced much of the writing in this book, as have theatre collaborations with national and global artists.
Kim Peter Kovac has had poetry, prose poetry, flash fiction, haiku, haibun, and creative non-fiction published in journals from Australia, Bangladesh, England, India, Ireland, Korea, Poland, Scotland, Singapore, South Africa, UAE, and the USA, including Sukoon, Frogpond, Mudlark, Ishaan Literary Review and The Journal of Compressed Creative Arts.
He commissioned and produced 100+ new plays and musicals for young audiences as Artistic Director of Kennedy Center Theater for Young Audiences. He and Deirdre Kelly Lavrakas are founding co-directors of the ground-breaking play development program New Visions/New Voices and co-edited New Visions/New Voices: 25 Years/25 Plays (Dramatic Publishing, 2016).
He lives in Alexandria. Virginia.
Paperback: 110 pages
Publisher: Kelsay Books (January 20, 2021)