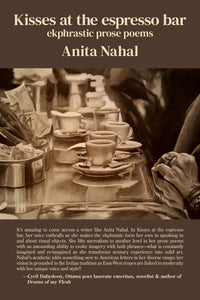 Anita Nahal, Ph.D., CDP, is a Pushcart Prize-nominated Indian American author and academic. She has four books of poetry, one of flash fiction, four for children, and five edited anthologies to her credit. Her third book of poetry, What's wrong with us Kali women? (Kelsay, 2021), was nominated by Cyril Dabydeen, Guyanese Indian Canadian, Ottawa poet laureate emeritus, and novelist as the best poetry book in 2021 for Ars Notoria. It's also mandatory reading in an elective course on multicultural society at Utrecht University, the Netherlands. Her latest release is a collection of ekphrastic prose poetry, Kisses at the espresso bar (Kelsay, 2022).
Anita's poems have appeared in numerous journals in the US, UK, Asia, and Australia and have been anthologized in many collections, including The Polaris Trilogy, which will be sent to the moon in the Space X launch. Her first novel, Drenched Thoughts is set to be released in 2023.
Anita has a master's and M.Phil. from Delhi University and a Ph.D. from Jawaharlal Nehru University, plus a Fulbright postdoctoral scholar-in-residence from Binghamton University, NY. Currently, Anita teaches at the University of the District of Columbia, Washington, DC. Anita is the editor of the Newsletter, Poetry Virginia Society, and secretary of the Montgomery Chapter, Maryland Writers Association. She is the daughter of Sahitya Akademi Award-winning novelist and professor Late Dr. Chaman Nahal and educationist Late Dr. Sudarshna Nahal. Her family includes her son, daughter-in-law, and Goldendoodle girl. 
More on her at:
anitanahal.wixsite.com/anitanahal
Paperback: 103 pages
Publisher: Kelsay Books (October 18, 2022)
Also available on Kindle
Reviews:
FemAsia Magazine
Maryland Verse and Wit
Samyukta Journal
The Pioneer
The Statesman