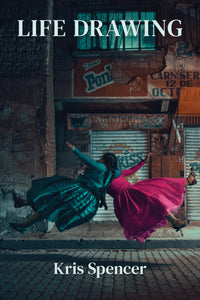 Kris Spencer is a British poet. His poems have been published in journals in the UK, Ireland, the US, Europe and SE Asia. He is an elected Fellow of the Royal Geographical Society. The RGS is a grand institution that celebrates explorers.
Kris is a teacher living and working in West London. He encourages pupils, teachers and parents to see the poetry in things. He was born and grew up in a village outside Bolton. Previously, he has studied, worked and lived in Hull, Cincinnati, Oxford, and the Bailiwick of Jersey.
Kris is married with two children.
Paperback: 74 pages
Publisher: Kelsay Books (December 23, 2022)
Also available on Kindle
Book Reviews:
Briefly Write