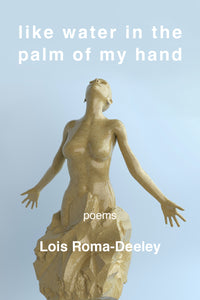 Lois Roma-Deeley's previous full-length poetry collections include: The Short List of Certainties, winner of the Jacopone da Todi Book Prize (2017); High Notes (2010), a Paterson Poetry Prize Finalist; northSight (2006); and Rules of Hunger (2004).
Her work is featured in numerous anthologies and journals. She is Poet Laureate of Scottsdale, Arizona (2021–2024). Roma-Deeley is the Associate Editor of the international poetry journal Presence: A Journal of Catholic Poetry. She was named U.S. Professor of the Year, Community College, by the Carnegie Foundation for the Advancement of Teaching and CASE, 2012–2013.
She holds an MFA in poetry from Arizona State University and a Ph.D. with a primary emphasis in poetry from The Union Institute and University. She lives in Scottsdale, Arizona, with her family.
Visit loisroma-deeley.com.
Paperback: 100 pages
Publisher: Kelsay Books (August 30, 2022)