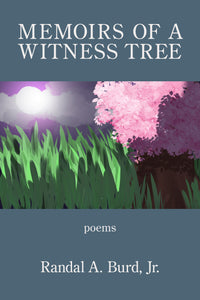 Randal A. Burd, Jr. has been writing poetry for publication since middle school, when a silly poem he wrote in the fifth grade (1989), "I Have a Hippoturtlephant," was published by Creative Kids magazine. His poetry continues to be featured in numerous literary journals, both online and in print.
Randal holds a bachelor's degree in English Literature from Missouri University of Science & Technology where he was Editor-in-Chief of both the college newspaper and the literary magazine for multiple terms. He also holds a master's degree in English Curriculum & Instruction from the University of Missouri.
Randal is currently the Editor-in-Chief of the online literary magazine Sparks of Calliope. He has also been heard occasionally on Poetry Super Highway's monthly Worldwide Open Poetry Reading. Randal is a married father of two and educator teaching disadvantaged youth and adults in rural Missouri.
Paperback: 60 pages
Publisher: Kelsay Books (July 29, 2020)
Reviews:
Bookworm Reviews
The HyperTexts
The Poetry Cafe
The Society of Classical Poets
Chris Rice Cooper Blog
Jama's Alphabet Soup