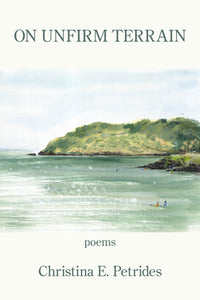 Born in Texas and raised in the Central Savannah River Area (CSRA) of Georgia, USA, Christina E. Petrides has taught English on Jeju Island, South Korea, since 2017.
Christina began writing poetry in 2018, and scores of her poems have since appeared in periodicals worldwide. On Unfirm Terrain is her first poetry collection.
Christina's first children's book, Blueberry Man, was issued in English in 2020 and in Korean in 2021, both by Tchaikovsky Family Books (Jeju). Christina's second children's book, The Refrigerator Ghost, was published in 2022 in Korean by Kong Publishers (Seoul).
Christina's website is: www.christinaepetrides.com.
Paperback: 70 pages
Publisher: Kelsay Books (November 2, 2022)