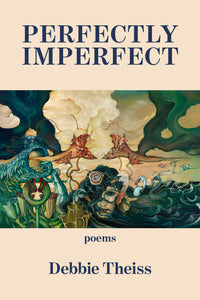 Dr. Debbie Theiss, Ed.D., grew up in the Midwest. As a former professor, administrator, and educator, she is an author of several academic publications and now enjoys pursuing her passion of writing poetry.
An avid naturalist, gardener, bicyclist, hiker, and spouse of a birder (SOB), Debbie enjoys treks across the U.S. to find the next life bird on her husband's list. She has traveled to all 50 states hiking national parks and bicycling, and she finds inspiration for her poetry in the unfolding art of daily life and nature.
In her debut poetry collection, Imperfectly Perfect, the author explores the transformative powers of lived experiences that create the imperfectly perfect person. The collection is divided into three sections. The first selection of poems considers not only what a person perceives but how interpretation forms meaning for that experience. In the second section, poems reflect how the love of persons, things, and places shape the person we become in our lives. In the last section, the author deliberates through the messy and sometimes confusing circumstances that help us accept being imperfectly perfect.
Paperback: 66 pages
Publisher: Kelsay Books (September 9, 2021)