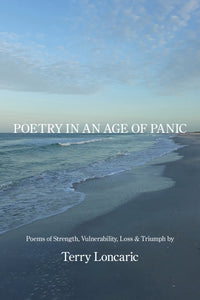 Before Terry Loncaric broke into poetry, she worked as a newspaper reporter, feature writer, and editor.
"I think I was collecting material for poetry during the many years I worked as a journalist," Loncaric reflects. "On a daily basis, characters popped into the newsroom. There was a mad energy that crackled inside a newsroom. As a reporter, I was trained to write concise, yet gripping stories."
Loncaric easily made the transition to poetry. "Poetry allowed me to write on a more expressive palette," she relates. "The reporter in me loved the deeper truths that always simmered in poetry." While networking with other poets in the thriving Chicago area poetry scene, Loncaric learned the craft of poetry.
"I have always been attracted to compelling stories, interesting characters, and human struggles," the author asserts. "In my poetry, I travel the landscape of human experience and fearlessly follow every twist and turn while also delighting in the dark detours."
Loncaric wrote her first book of poetry, Crashing in Velvet, a chapbook collection, for Finishing Line Press in 2015. Her latest book, Poetry in an Age of Panic/Poems of Strength, Vulnerability, Loss & Triumph is the author's first full-length collection of poetry.
 Loncaric's poems have been lauded for their humanity, her narrative flair, and her lyrical use of language. Her poems have appeared in journals, magazines, anthologies, on storefronts and in other public spaces. Her poems have won numerous awards, including a Pushcart nomination, and a first-place award from the Northbrook Arts Commission.
Through her poetry, Loncaric tries to build communities. She has hosted many community poetry events at cafes and other venues. She has also worked in schools and libraries, empowering and inspiring student poets. She launched Poetry Power, a unique program of student and staff poetry, while working in the Special Education Department of Hoffman Estates High School in the Chicago suburbs.

She has lectured on feature writing and entertainment writing at Columbia College and Roosevelt University and a conference of the Suburban Newspaper Association.
Her opinion pieces, travel narratives, and celebrity profiles have been published nationally. Loncaric received a second place award from the Illinois Press Association for her revealing feature story on the comic Richard Lewis.
The Hampshire, IL, author feels her poetry offers intense moments of clarity and peaceful bombs of truth. Loncaric has a passion to bring poetry to the people. She believes sharing poetry is a communal experience. "Poetry is therapy," she contends. "It is meditation. It is conversation. It is prayer. It is the language I will speak as long as I live and breathe."
Loncaric holds a degree in journalism from Indiana University.
Paperback: 136 pages 
Publisher: Kelsay Books (August 7, 2021)