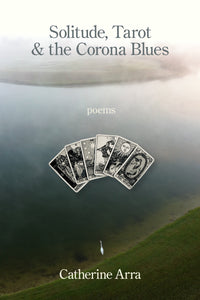 Catherine Arra is a former high school English and writing teacher. Since leaving the classroom in 2012, her poetry and prose have appeared in numerous literary journals online and in print, and in several anthologies. She is the author of Deer Love (Dos Madres Press, 2021), Her Landscape, Poems Based on the Life of Mileva Marić Einstein (Finishing Line Press, July, 2020), (Women in Parentheses) (Kelsay Books, 2019), Writing in the Ether (Dos Madres Press, 2018), and three chapbooks: Tales of Intrigue & Plumage (FutureCycle Press, 2017), Loving from the Backbone (Flutter Press, 2015), and Slamming & Splitting (Red Ochre Press, 2014). Arra is a native of the Hudson Valley in upstate New York, where she lives most of the year, teaches part-time, and facilitates local writing groups. In winters she migrates to the Space Coast of Florida. Find her at www.catherinearra.com.
Paperback: 76 pages
Publisher: Kelsay Books (December 15, 2022)
Book Reviews:
BlueStone Press
One of the finely etched archetypes in "The Tarot Poems" section of Catherine Arra's Solitude, Tarot & the Corona Blues must have thrown the deck and always come up with life. The book is rife with it: a life that both stares down and embraces the dark times, while coaxing everything radiant to the surface. In "Cooking in the Time of Corona," she and her "witches in the wisdom of friendship" make Covid palatable. And God help "Badass," "a real pussy magnet," who whines enough to "send any good orgasm packing."
            —Tina Barry, author of Beautiful Raft and Mall Flower
Like a third eye, the poems in Catherine Arra's Solitude, Tarot & the Corona Blues reach beyond mere physical sight to the enlightened realm of the spiritual. Finding solace in nature and ancient wisdom, Arra traverses such worldly challenges as Covid-19, a deadly deer virus, and profound relationship disappointments. Her deft lyric poems—including a pantoum—and spirited persona poems act as an intimate portal through which New York's Catskill Mountains and tarot's Major Arcana archetypes spring to life. From "the desert of quarantine" to the dislocation of a broken marriage, Arra's magical collection ushers readers on an illuminating inner journey across "the bridge between seen and unseen," offering the sagacious "reminder to look up. Beyond."
           —Jo Pitkin, author of Rendering and Village: Recession
 In pared-down pandemic life, a time for walking, reflecting, and days sustained by nature and a woman's fortitude, Catherine Arra finds "Second Seasons." She writes, "In distilled grace, let us plant a garden for / regret, sorrow, forgiveness, tend the past in beginnings." By turns folksy, lyrical, caustic, and determined, her poems speak with a toughened wisdom that won't suffer fools but knows the truth of love. Her tarot poems offer a master class in persona poetry. Each speaks with a spiky personality to deliver truths that are entertaining, painful, but never wrong.  A smart and heartful book. 
          —Will Nixon, author of My Late Mother as a Ruffed Grouse and The Pocket Guide                                   to Woodstock

Mankind has longed for a sense of control over the future. Tarot is one of the oldest methods of divining the future. Tried and true. From the beginning (Fool) to the end (World), you can track your progress while bringing in messages from the spirit world. Catherine Arra offers her poetic interpretation of the tarot journey and invites you into your own by giving voice to the images of the Major Arcana. 
          —Mary Bogart, Psychic Medium