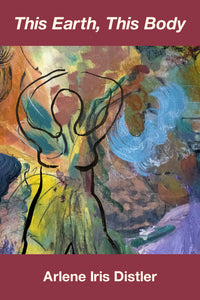 Arlene Iris Distler was born and spent her childhood in Queens, New York, and Miami Beach, Florida. She has lived for all her adult life in southern Vermont where she has raised four children in the wilds of the Green Mountains and in the town of Brattleboro.
She is a freelance writer, potter, painter, and founder of Write Action, a non-profit organization that seeks to encourage, nurture, and promote the literary arts. Write Action has been an important part of Distler's community life for over two decades.
Distler has published in online and print journals, been a finalist in several contests, and in 2014 published her first chapbook, Voices Like Wind Chimes.
With a background in painting, for twenty years she has combined her love of the visual arts and writing through reviews and features for Art New England, Southern Vermont Arts & Living, American Craft Magazine, Vermont Magazine, and the Brattleboro Reformer, and Commons newspapers.
Mostly self-taught as a poet, she has learned her craft at writing retreats at Vermont Studio Center in Johnson, Vermont, the Frost Place at Laconia, New Hampshire, Omega Institute and The Phoenix Center. She has been awarded grants from the Vermont Studio Center, Vermont Council on the Arts, and Pen America.
Recently she has delved into the poetry of pottery, exploring the craft and art in a co-operative studio in Brattleboro.
Both Buddhism and her Jewish heritage have played important parts in her life and her writing. She would like to think a love of sculptural form, beauty seen behind and beyond the seen, and appreciation for the power of words inform her poetry.
Paperback: 96 pages
Publisher: Kelsay Books (September 7, 2022)
Reviews: