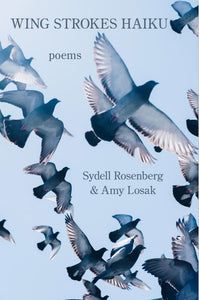 Amy Losak spent most of her life in Queens, New York, and now lives in New Jersey. She is a healthcare public relations consultant. Her mother, Sydell Rosenberg, was a teacher and published writer, especially poetry—primarily haiku and related forms. Syd was a charter member of the Haiku Society of America in 1968. Amy is a member today.
Syd, who died in 1996, contributed to the literary life of her home borough and New York City. Her "city haiku" and other poems were published in leading journals, classic anthologies (such as The Haiku Anthology and The Haiku Handbook: How to Write, Share, and Teach Haiku), and other media dedicated to this luminous form. In 1994, Syd's senryu was featured in the New York public arts project, Haiku on 42nd Street, in which old theater marquees in Times Square were transformed into "frames" for short poems.
Thanks to Syd's influence, Amy writes and publishes her own haiku today. Her credits include Akitsu Quarterly, Autumn Moon Haiku Journal, Failed Haiku, Frameless Sky, Frogpond (the journal of HSA), The Haiku Foundation, Hedgerow The Heron's Nest, Modern Haiku, Newtown Literary, Prune Juice, Tinywords, and more, including several anthologies.
In 2018, Penny Candy Books, started by two poets, released H Is For Haiku (illustrated by Sawsan Chalabi). Amy wrote the introduction. This vibrant children's collection was honored by the National Council for Teachers of English as a 2019 "Notable Poetry Book."
In 2020, the respected independent literary publisher, Kattywompus Press, released Syd's chapbook for adults, Poised Across the Sky. Amy and founder Sammy Greenspan served as co-editors.
Amy also is a member of The Bookniks (formerly The Book Meshuggenahs), a group of female Jewish authors in the United States and Israel. They write children's books and serve as a resource for the Jewish community.
Paperback: 36 pages
Publisher: Kelsay Books (July 28, 2022)
Reviews:
Lit Shark
Mom Egg Review
Poetry Pop
tweetspeakpoetry
Quail Bell Magazine